THIS IS A PLACE OF HELP FOR FILMMAKERS AND MINORITIES IN AND FROM UKRAINE AND ALL PEOPLE WHO ARE AFFECTED BY THE WAR.
Please share and spread the word!
FIND HELP – GIVE HELP
German production is looking for an assistant editor for the documentary film about Ukraine from the time of the Maidan to the present day. The film is directed by Kristof Gerega and supported by ZDF. The documentary follows journalists who become politicians and continue their careers in public activism and politics – Svitlana Zalischuk, Mustafa Nayem and Serhiy Leshchenko. The main tasks of the assistant, for now, are to translate the text from Ukrainian into English and create subtitles inside Premiere Pro (there is a new convenient feature), and work with the archives of the Verkhovna Rada. The director and
Information on legal and administrative questions for artists and creatives in Germany who work abroad for a limited time and for foreign artists and creatives who work in Germany temporarily. The information portal for artists and creatives working internationally Artistic creation often goes hand in hand with cross-border work. This results in various practical issues and, under certain circumstances, even organizational difficulties for artists, creatives and persons engaged in the cultural sector, e.g., concerning social security, taxes, or insurance issues, which pertain both to work stays and collaborations within the EU and projects beyond EU borders.www.touring-artists.info provides answers to questions regarding international mobility for
Assistance for Refugees, Find Help, Legal Help
Actors/Actresses, Artists, Creative industry professionals, Filmmakers
Every day, convoys of 10 to 25 vehicles travel to several locations on the Ukrainian border to bring people in need of protection to pre-selected host families in a single trip without detours. The main focus is on women, children and seniors traveling alone. On this way also medicines, foodstuffs as well as specifically requested relief supplies are brought to the borders. Drivers are always needed, as well as host families who can offer refugees a place to stay. 
Accommodation, Assistance for Refugees, Find Help, Give Help, Transport
English, German, Polish, Russian, Ukrainian
ABOUT US
This website was created by Crew United Europe. Actually we connect people to make great films together under fair conditions. Now we want to use our experience to connect people to help people from and in Ukraine. We invite all institutions, associations and unions of the film industry in Europe and worldwide to support and help us.
DONATE
Stanislav Tkachov, a Ukrainian cinematographer is collecting money for 22 digital two-way radios Motorola mototrbo dp4400e VHF. Read his personal message and support this cause:"I'm Stanislav, a DOP, now in Forces of Special Operations of the Ukrainian army (AZOV).We have big support from western countries as you know, but the range of our needs is very wide, especially in the technical sphere and communication with each other in hot spots under action of jamming systems is super important. So, we need 22 digital two-way radios Motorola motoTrbo dp4400e VHF. For any contribution or donation, I'm personally making photo/video report for
President of Ukraine, Volodymyr Zelenskyy, launched a global initiative United24. Its goal is to unite people in their will to help Ukraine. United24 starts with a fundraising platform, which becomes the main venue for collecting charitable donations in support of Ukraine. The United24 website provides the ability to make a one-click donation from any country. United24 raises funds to be used in three directions: Defence and Demining Humanitarian and Medical Aid Rebuild Ukraine All funds will be transferred to the accounts of the National Bank of Ukraine and assigned to the relevant ministries: The Ministry of Defenсe of Ukraine, The
Support Filmmakers Ukraine: Eine gemeinsame Initiative des Produzentenverband e.V., AG DOK e.V., Deutsche Filmakademie e.V., Deutsche Akademie für Fernsehen e.V. und Crew United / www.filmmakers-for-ukraine.com
WANT TO STAY UP TO DATE?
Suscribe here for the latest Posts
BLOG
The Polish production company Papaya Films organizes a series of panels called "Let's Talk About the Industry" in order to help Ukrainian people who are working in the film production industry and moved to Poland because of the war. Using this initiative, the organizers want to: Provide useful information about the film production industry in Poland Offer opportunities Education resources to newcomers Help with their first steps Establish a space for effective networking and contact exchange. Schedule for the next meetings: May 20 – Talent Management in Poland (speaker: Stanisław Chyla-Smyk, Head of Talent Management at Papaya Roster) May 27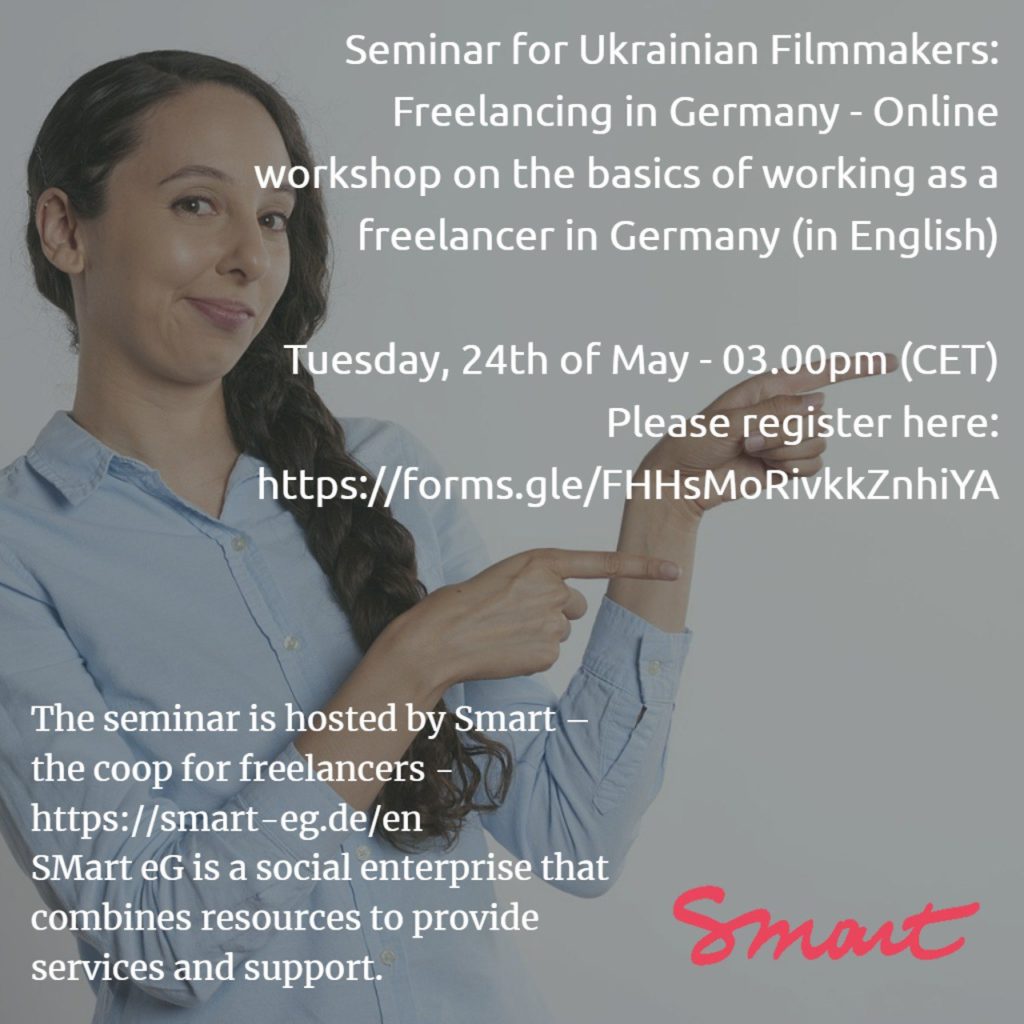 Seminar for Ukrainian Filmmakers: Freelancing in Germany – Online workshop on the basics of working as a freelancer in Germany (in English) In this workshop, you'll learn about the difference between freelancing and employment in Germany, the different types or categories of freelancing ("freier Beruf" and "Gewerbe") as well as information on how health insurance works for freelancers in Germany (including an introduction to the Künstlersozialkasse) and on income tax and value-added tax (VAT). You'll also get a short introduction on how processing your freelance activity through the Smart cooperative could make your life easier. The seminar is hosted by
The 75th edition of the Cannes Film Festival takes place from May 17 to 28, 2022 in France. Together with The Location Guide and EUFCN, Filmmakers-for-Ukraine will be at The Cannes Film Festival this year from May 19 to 23 to support Ukrainian Filmmakers and Ukrainian filmmaking industry. Many pavilions and events will support our fundraising campaign for the Ukrainian filmmaking community. Ukrainian lapel pins are on sale throughout the festival at a range of locations, and a minimum donation of EUR10 is required by scanning a QR code. The Ukrainian lapel pins will be available at the following Cannes locations:
Movies
Documentary With great support byJustWatch original title: Herr Pilipenko und sein U-Boot Director: Jan-Hinrik Drevs, René Harder Genre: Documentary Country: Germany Language: Ukrainian Length: 90 Minutes Mister Pilipenko and his Submarine – Synopsis Vladimir Pilipenko loves to be in his workshop. This is where he has spent days and nights for the last three decades, building a submarine out of scrap parts. In the middle of the Ukrainian steppe. The amazing thing is: The bright green vehicle works! At least in the local village pond. But Vladimir Pilipenko wants to prove that he can really dive with his submarine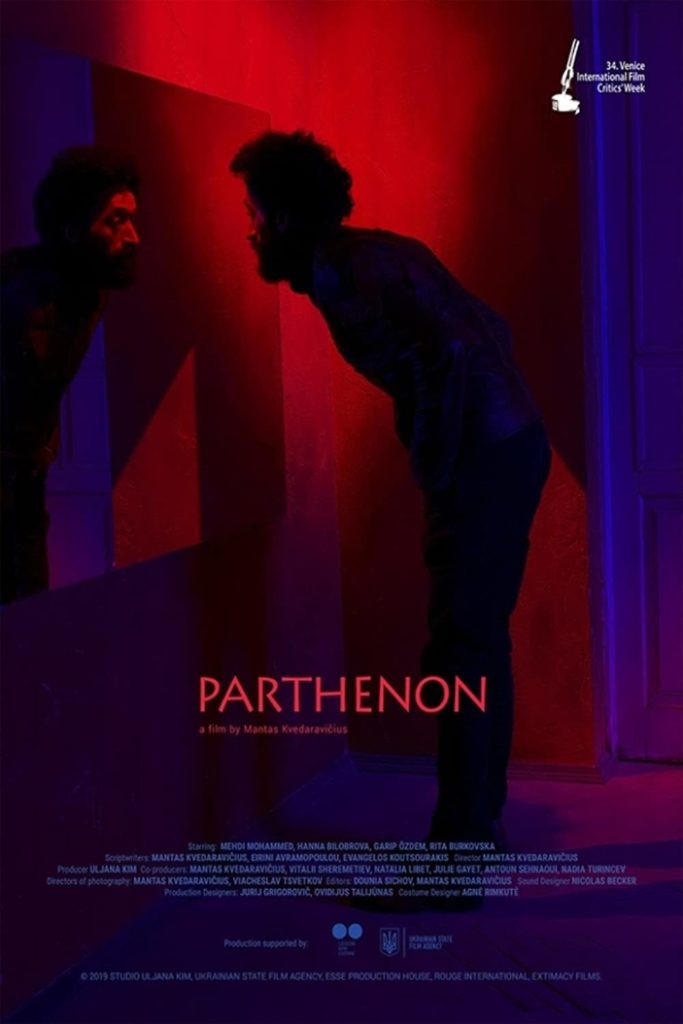 Fiction   With great support byJustWatch other title: Partenonas, Stasi Director: Mantas Kvedaravicius Genre: Drama Country: Lithuania, Finland, France Language: Ukrainian, Russian, Arabic, English, Turkish Length: 119 Minutes Parthenon – Synopsis In a cheap brothel at the foothills of an Athenian fortress, a man recounts the magnificent events of his life. His search for love and glory is retold and relived by many: a prostitute with an unredeemable past, a gangster haunted by bad luck, an icon painter who has no faith… In one of the stories, the man finds his riches, in another he becomes a vagabond prophet, in
Documentary With great support byJustWatch Director: Mantas Kvedaravicius Genre: war Country: Lithuania, Finland Language: Chechen, Russian Length: 59 Minutes Barzakh – Synopsis In a Chechen city recovering after the war, a man disappears. As daily life goes on, those in search are drawn into a world where encounters with diviners and legal advisors, with the torturers and the tortured, with secret prisons and mythical lakes all become commonplace. Consolation and help only come from neighbours and relatives or accidentally met strangers people who themselves live with the loss or who are ones that have returned from where no one