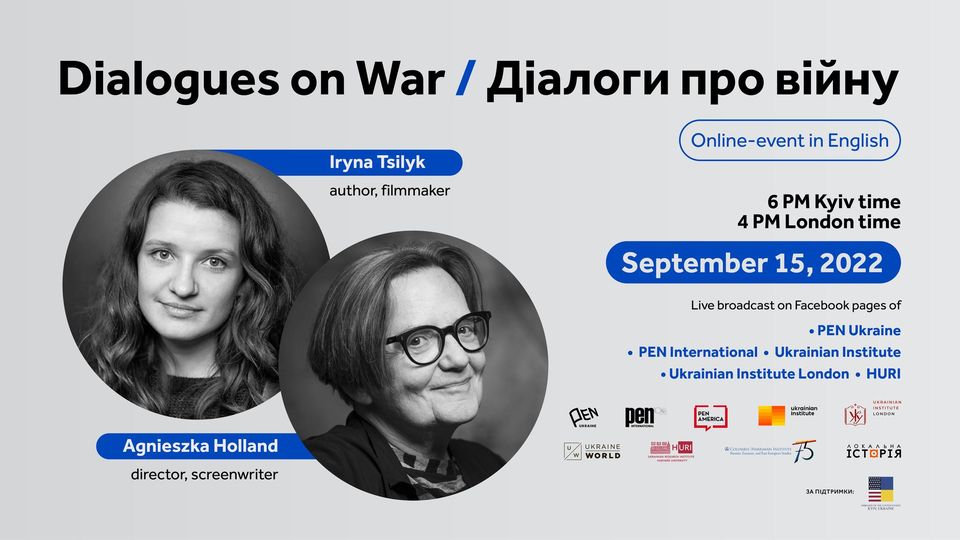 Iryna Tsilyk and Agnieszka Holland featured in Dialogues on War Episode #31.
The series of conversations #DialoguesOnWar launched by PEN Ukraine where famous foreign and Ukrainian intellectuals speak about the experience of the war and share their own observations announced the speakers featured in the 31st episode. This time two famous filmmakers will join the conversation on war: Iryna Tsilyk and Agnieszka Holland.
Iryna Tsilyk is a Ukrainian filmmaker and author, member of Ukrainian PEN International. She gained international recognition in 2020 when she received the "Directing Award: World Cinema Documentary" for the film "The Earth Is Blue as an Orange" at Sundance Film Festival.
Agnieszka Holland is a renowned Polish film and television director and screenwriter, President of the European Film Academy from 2020. She is a multiple nominee at Academy Awards for her movies "Europa Europa" (for Best Adapted Screenplay, 1990), "Angry Harvest" (for Best Foreign Language Film, 1985) and "In Darkness" (for Best Foreign Language Film, 2011). In 2017 she received the Alfred Bauer Prize (Silver Bear) for her film "Spoor" at the Berlin International Film Festival.
PEN Ukraine is a Ukrainian non-governmental organization established to protect freedom of speech and copyright, promote literature and international cultural cooperation. It is part of the network of national centers of the PEN International.
PEN International celebrates literature and promotes freedom of expression. Founded in 1921, its global community of writers now spans more than 100 countries. PEN's campaigns, events, publications and programmes aim to connect writers and readers wherever they are in the world. PEN International is a non-political organization and holds special consultative status at the United Nations.
The Dialogues on War project is supported by the U.S. Embassy in Ukraine.
LIVE BROADCAST
The 31st episode of Dialogues on War will be live broadcast on PEN Ukraine, PEN International, PEN America, Ukrainian Institute, Ukrainian Institute London, UkraineWorld, Local History, Harvard Ukrainian Research Institute, The Harriman Institute at Columbia University:
the 15th of September 2022
at 6 pm Kyiv time (4 pm London time)
Event Page on Facebook