The importance of a much-needed guidance for Ukrainian screen professionals in the UK on extended stay permission was the epicenter of our presentation together with ScreenSkills during FOCUS 2022 in London. More than forty (40) Ukrainian professionals attended the presentation of an incredible panel of speakers on Wednesday, December 7.
The event was organized by Filmmakers for Ukraine as part of a fruitful collaboration with ScreenSkills, the organisation responsible for training schemes to increase the film & TV workforce in the UK.
Watch the video with the full presentation below:
Over forty (40) Ukrainian professionals who live now in the UK on an extended stay permit attended the presentation and had the opportunity to get informed of the modus operandi of ScreenSkills, the training programs which can be beneficial to them (Trainee Finder, Make a Move, Script to Screen), what it means to apply for bursaries and they were encouraged to navigate themselves on the ScreenSkills website in order to find training opportunities.
As Nicky Ball explained, ScreenSkills is an industry-funded skills organisation for the UK's screen industries – TV, film, animation, visual effects, games and immersive technology. They work across the UK ensuring the screen industries have access to the skills and talent they need for the future. Primarily, they offer training, placements, bursaries and mentoring.
''The reason why we started working with Filmmakers for Ukraine was to highlight all the programs that ScreenSkills High-end TV can offer to anybody that has a right to work in the UK. For instance, we have programs from new entry level right through to series producer and co-producer. We also have Trainee Finder where we take about 250 trainees a year, we have Make a Move which is for people stepping up in their career, i.e. from a coordinator to a production manager. Lots of those programs are very much about classroom based training short courses and then the High-end TV skills fund actually pays for you to do placements. We also offer e-learning modules, like what we call Script to Screen. I encourage you to look on our website, there is so much there which is accessible to everybody.''

Nicky Ball, Head of High-end TV Mid-Level Career Progression, ScreenSkills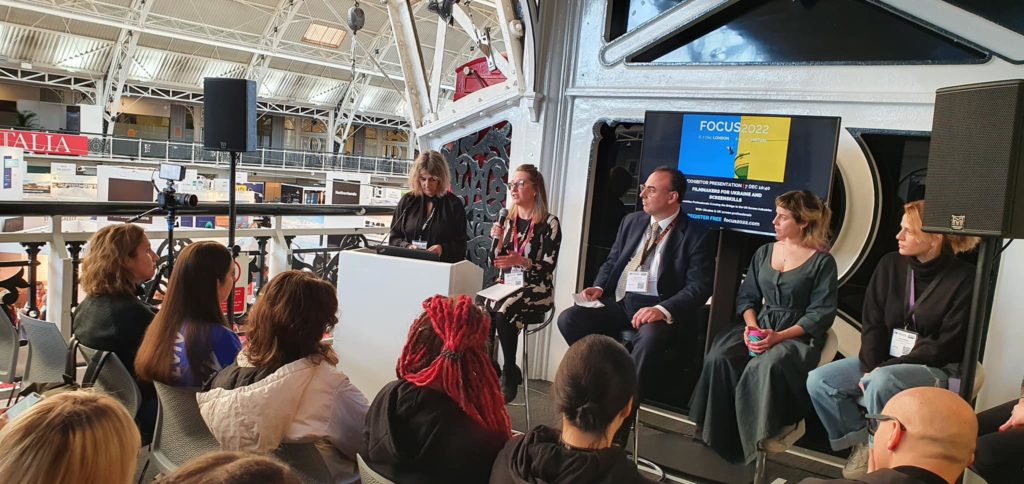 ''Our support for media professionals was formed by Sonya Chakarova of PlayBox Neo, Danielle Weigner of Cinegy and myself in answer to the attack of the Kyiv TV tower. The attack was at 3pm UK time, I first heard from Sonia at 3:48pm and by 6pm we had a fully formed plan to help Ukrainian broadcasters to get back on air with Channel in the box solutions and how we could help refugees across Europe. We brought together representatives of broadcast, film and streaming, from ARRI to Walt Disney and Warner Brothers. We acquired the support of International Association Broadcast Manufacturers (IABM), the International Broadcast Convention (IBC), National Association Broadcasters in America and PACT, the Producers Association in UK. Together we supplied Channel in a Box and Cloud solutions, equipment resources to keep Ukrainian broadcasters on air. When the war ends one of the things we want to focus on is to rebuild the infrastructure physically in studios."

Phillip Covell, CEO & Consultant, Film & TV Founder
Ukrainian cinematographer Diana Olifirova explained how she managed to seek greater professional opportunities when she started her career about 10 years ago in the UK and offered tips on networking.
Ukrainian filmmaker Olga Kozhema talked about her experience of shooting a TV series as 2nd AD in London and shared with us moments of working together with 3rd AD Emmy Brown, while Zoe Mello, Production Executive from Roughcut Television who hired Olga, offered the perspective of a UK producer in this collaboration.
During the Q&A discussion, British and Polish producers wanted to know more about the possibilities of hiring Ukrainian professionals, whereas Ukrainians actors were eager to know tips on the first steps they need to take to integrate in the UK industry.
The establishment of the association Talented U was also announced since its founder Ksenia Bugrimova attended the presentation. Ksenia was the Head of the Ukrainian Female Film Industry in Ukraine and since her arrival in the UK, together with her colleagues, they have created a database of the Ukrainian professionals who are now staying in the UK aiming to coordinate their efforts to integrate into the local filmmaking industry.
We want to express our gratitude to all the people who helped make this event happen:
Calvin Walker – Consultant, Filmmakers for Ukraine
Clara Le – The Location Guide
Constantin Ursachi – FOCUS
Olivia Rogalla – Crew United Spain
Diana Olifirova – Cinematographer
Ksenia Bugrimova – Talented U
Click HERE to read more about our presentation at FOCUS 2022
FOCUS Presentation Video