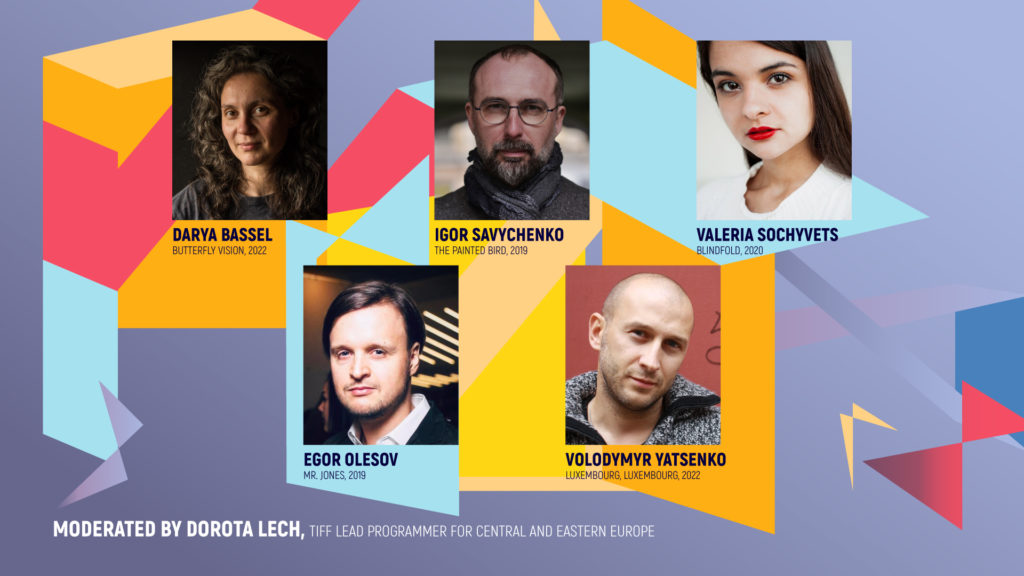 TORONTO — TIFF is proud to showcase the depth and creativity of Ukrainian filmmakers, producers, and talent with four Official Selections titles, two Industry Conference events, a promotional stand in its Industry Centre, and a special free public screening. In addition, TIFF will host a large delegation of Ukrainian film professionals at this year's Festival.
"Film holds the power to unite and this year we are honoured to help elevate the voices of Ukrainian storytellers and creators," said Cameron Bailey, CEO, TIFF. "Not only are we helping to put a spotlight on the stories this country has to offer, but we are standing in solidarity with Ukranians both here at home and abroad."
UKRAINIAN-FOCUSED FILMS IN TIFF OFFICIAL SELECTION
All titles have been previously announced
Liturgy of Anti-Tank Obstacles (Літургія протитанкових перешкод)
Dmytro Sukholytkyy-Sobchuk | Ukraine, USA
North American Premiere
Luxembourg, Luxembourg
Antonio Lukich | Ukraine
North American Premiere
Mariupolis 2
Mantas Kvedaravičius | Lithuania, France, Germany
North American Premiere
Valeria Is Getting Married
Michal Vinik | Israel
North American Premiere
Victim (OBEŤ)
Michal Blaško | Slovak Republic, Czech Republic, Germany*
North American Premiere
*Ukrainian protagonist
FREE PUBLIC SCREENING
The title noted below is not a TIFF 2022 Official Selection
Freedom on Fire: Ukraine's Fight for Freedom
Evgeny Afineevsky | Ukraine, United Kingdom
North American Premiere
September 13, 9:15am at Scotiabank Theatre Toronto – FREE
TIFF presents director Evgeny Afineevsky's documentary about the war in Ukraine. Afineevsky traces the war from the conflict in the Donbas region beginning in 2014, to Russia's full-scale invasion of Ukraine early this year. Tickets are available to the public for free starting at 10am on September 6 at tiff.net/tickets.
INDUSTRY CONFERENCE EVENTS
Spotlight on Ukrainian Producers (September 12, 9am)
Meet the six prominent Ukrainian producers behind recent festival hits who are actively working on new projects against all odds: Darya Bassel (Butterfly Vision, 2022), Volodymyr Yatsenko (Luxembourg, Luxembourg, 2022), Ihor Savychenko (The Painted Bird, 2019), Valeria Sochyvets (Blindfold, 2020), Egor Olesov (Mr. Jones, 2019). Join the talk about their current and future projects, moderated by Dorota Lech, TIFF Lead Programmer for Central and Eastern Europe. The event is organized by TIFF Industry in partnership with the Ukrainian Film Institute.
The Impact of the War in Ukraine on the International Film Industry (September 13, 11:45am)
Cinema is boundless — it can expand your horizons and transcend borders. But how can conflict in the country of your creative partner change your plans? This panel discussion is geared toward resourceful producers who are looking for tools to navigate the elusive world of co-productions. In this roundtable session, producers and agencies with co-production treaties listen to your questions and discussion points in the context of the Russian war in Ukraine, and how you can cooperate with Ukrainian productions. The event is organized by the Ukrainian Film State Agency in partnership with TIFF Industry.
Official Press Info