The powerful multi-award winning documentary set in Ukraine will open the Online Charity Screenings on July 14. In an exclusive Q&A, the filmmaker talks about the normalization of fear seen through the eyes of a young boy, and the importance to help Ukrainian filmmakers right now
"There are so many amazing film professionals from Ukraine still living and working in their country. Some of them are fighting for Ukraine" says Simon Lereng Wilmont interviewed by Pierpaolo Festa for CREW UNITED "Whatever support there might be – work, moral support or financial support, they need it. Because, in the coming years they will have stories to tell us about what is happening right now. I think this is hugely important. I would strongly urge people to help them in any possible way".
Below, please watch the Q&A with the Simon Lereng Wilmont, director of THE DISTANT BARKING OF DOGS:
The film will be available for a week on our platform, courtesy of CINEPHIL International Sales, producer Monica Hellström and FINAL CUT FOR REAL. Five more titles will be available on the same day. More films will be added every week.
THE DISTANT BARKING OF DOGS – THE FILM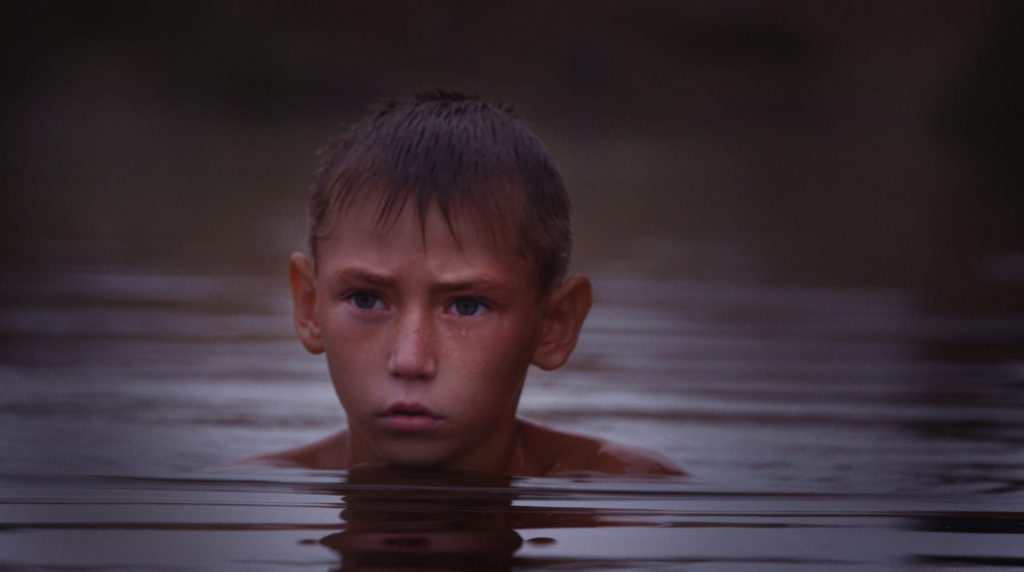 Set in Eastern Ukraine on the frontline of the war, THE DISTANT BARKING OF DOGS follows the life of 10-year-old Ukrainian boy Oleg throughout a year, witnessing the gradual erosion of his innocence beneath the pressures of war.
This is a coming of age story, about a kid living with his grandmother and forced to say goodbye to his childhood and become an adult before the time.
"I was super interested in finding out where kids with unsafe lives go to find the comfort and strength that you need to grow up without too many scars on your soul – says Wilmont – That is what led me to Ukraine in the first place. For me, that period in childhood where you start to realize that there is a whole adult world out there, and you need to adjust and adapt to it, is a super dramatic time. A time of great change, sorrow, but also joy. And that time speaks a lot about who we develop as grown-ups. That is why I am super interested in kids in these situations, because they are facing challenges that normal kids are not. And they have to overcome and adapt to those".
THE "NORMALIZATION OF FEAR"
On screen, Wilmont captures the approach to fear at a very young age, followed by the acceptance of it. The director recalls the very moment where he found his protagonist: "We went from frontline schools to frontline schools down in the south of Ukraine. We spoke to a lot of kids (…) When I got to Oleg, I asked him as a final question: 'how does it feel like when you're afraid?'. He paused a little bit and then said: 'When they start shooting on the edge of my town, it's like this invisible hand that goes into my chest and grips my heart. And for every boom there is, the hand squeezes my heart a little bit tighter, until it's small and cold. That's how I feel when I'm afraid'. I knew immediately at that point: 'He is the main character of this film'".
THE DISTANT BARKING OF DOGS – WATCH THE TRAILER HERE:
THE MAIN CHARACTERS: OLEG & ALEXANDRA
During the last years, Wilmont has kept contacts with Oleg and his grandmother Alexandra, making sure they are safe.
"We were in close contact just before this awful invasion. And we were actually hearing from Oleg's grandmother, as she was getting more and more worried because of the fighting down in the southern part of the frontline was growing. We had actually planned a vacation (…) persuaded her to go to the Western part of Ukraine. We even bought train tickets and reserved a house for her. But the train tickets were (planned) for 24th February in the morning (…) I got these awful messages coming from them: 'It's insane here, there are bombs all over the place. Please pray for us because there is no way out of this'. Later that day we were told they actually made it to safety. That safety turned out to be Mariupol, the city that does not really exist anymore. They were trapped there for sometime, until finally they were able to get out of the city and contact us. We have managed to get them safely to the western part of Ukraine where they are safe".
A FILMMAKER'S LOVE STORY WITH UKRAINE
Wilmont went back to Ukraine to shoot his second documentary: A HOUSE MADE OF SPLINTERS. The film had its world premiere at the 2022 Sundance Film Festival, where it won the award for best directing. We asked Wilmont: after a total of six years of shooting in Ukraine, does he have a love story with this country? "Absolutely!" says the director "Especially the East I would say. I really enjoy meeting the people there, they are incredible (…) The people are warm hearted and good natured, and the humour is excellent. (…) I love that place, but now obviously it's difficult to say if I would ever be back. I hope so. And I'll keep that hope alive".
Watch, understand, and support Ukrainian filmmakers now! Charity Screenings – online from Thursday, July 14